What is Google Caffeine?
Just a little over a month ago, Google announced its new search index: Caffeine. For those who have yet to do their homework on the announcement, the first thing to know about Caffeine is that it is not a rankings algorithm update; rather it is a new indexing system. According to the Google blog,
Today, we're announcing the completion of a new web indexing system called Caffeine. Caffeine provides 50 percent fresher results for web searches than our last index, and it's the largest collection of web content we've offered. Whether it's a news story, a blog or a forum post, you can now find links to relevant content much sooner after it is published than was possible ever before.
Some background for those of you who don't build search engines for a living like us: when you search Google, you're not searching the live web. Instead you're searching Google's index of the web which, like the list in the back of a book, helps you pinpoint exactly the information you need.
So why did we build a new search indexing system? Content on the web is blossoming. It's growing not just in size and numbers but with the advent of video, images, news and real-time updates, the average webpage is richer and more complex. In addition, people's expectations for search are higher than they used to be. Searchers want to find the latest relevant content and publishers expect to be found the instant they publish.
To keep up with the evolution of the web and to meet rising user expectations, we've built Caffeine. The image below illustrates how our old indexing system worked compared to Caffeine: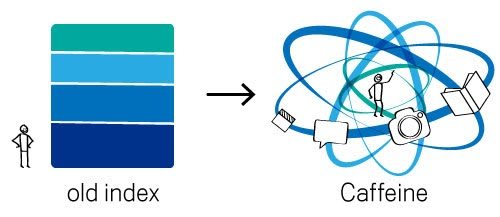 Our old index had several layers, some of which were refreshed at a faster rate than others; the main layer would update every couple of weeks. To refresh a layer of the old index, we would analyze the entire web, which meant there was a significant delay between when we found a page and made it available to you.
With Caffeine, we analyze the web in small portions and update our search index on a continuous basis, globally. As we find new pages, or new information on existing pages, we can add these straight to the index. That means you can find fresher information than ever before—no matter when or where it was published.
Caffeine lets us index web pages on an enormous scale. In fact, every second Caffeine processes hundreds of thousands of pages in parallel. If this were a pile of paper it would grow three miles taller every second. Caffeine takes up nearly 100 million gigabytes of storage in one database and adds new information at a rate of hundreds of thousands of gigabytes per day. You would need 625,000 of the largest iPods to store that much information; if these were stacked end-to-end they would go for more than 40 miles.
We've built Caffeine with the future in mind. Not only is it fresher, it's a robust foundation that makes it possible for us to build an even faster and comprehensive search engine that scales with the growth of information online, and delivers even more relevant search results to you. So stay tuned, and look for more improvements in the months to come.
Why is Google Caffeine good for me?
Underline it, highlight it, draw circles around it, asterick's, star it…whatever 😀 …here's the thing…fresh content is more important than ever! In a world of real-time, right now, in the the moment results brought to Internet users from Facebook,  Twitter, Foursquare, et al…. Google has to pay attention to providing most up to date results, especially if they want to stay atop the two social media giants
SEOBoy has this to say about what you should do:

* Sitemaps – As Google more frequently indexes information, make sure you're updating and resubmitting your sitemap. For en e-commerce client who regularly adds products to their site, I like to generate a map 2x a month.
* New Content – I can't stress this point enough. The more unique, fresh, and relevant content you have on your site, the better you're going to perform in search. Managing a website is not easy. If you want to be an authority on a topic or product, and thereby rank better, you have to prove your worth with great content. There is no such thing as setting up a site and sitting back while the rewards roll in.
* More Activity: Not only will you need to generate more content on your website, but in order to succeed in the world of Caffeine, you'll need to be active on the real-time sites as well, which means Twitter, Facebook, etc.
This last point leads me to think that Caffeine could actually bring some huge changes to the SEM/PPC industry. If you're already a client of the third river marketing, then you already know we're ahead of the "Google Caffeine" curve by utilizing WordPress as a CRM platform because it allows you, as a client, to easily make quick changes to your website and add fresh, relevant content very quickly. In addition, we've long advocated using your website as the HUB for all your social media, which is why we rarely, if ever design a site that does not incorporate and link to a clients' Facebook, Twitter and YouTube accounts.
Web 2.0 is all about being where the people are and engaging and interacting. Social Media is here to stay and just as a company as large and far reaching as Google has had to adapt their business model to it….your business needs to adapt to it as well.
If you have any questions about this or the whole idea of "Social Media Management", feel free to reach out. We're here and ready to help.
Sources: Official Google Blog, SE O Boy