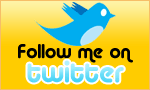 I saw a friend of mine the other day and he looked at me funny and asked me, "Tim, just what the heck does #followfriday mean"?   He had seen this on my Facebook page and had no idea what it meant.
After a quick chuckle I realized that many of the terms that I use everyday in my business just don't make sense to many of my friends who are not involved in internet marketing.
So feeling bad for excluding him, I quickly explained what #followfriday meant and how it is used on Twitter, one of the web's most popular social networking sites.
So if you don't know what #followfriday, hashtags, and Twitter are, here is a quick explanation;
Twitter is one of the fastest growing social networking sites that allows you to set up a free profile and connect with other people.  People that use Twitter are often called "Twitterers" or "Tweeps" or "Tweethearts".
Twitter allows you to update your "what are you doing" status in 140 characters or less.  This is called a "Tweet"
To engage other "Tweeps" in conversation, include the "@" symbol in front of their Twitter name.
"#" is called a hashtag.  This is used when people what to associate their "Tweet" with a particular subject, event, show, etc.  This is then easily searched by going to Twitter Search and typing in the "#" + "followfriday" (example).  This is a great way to track all conversations happening around that particular topic
"#followfriday" happens on Fridays and is used in a Tweet when one Twitterer wants to recommend that you follow another Twitter.
Here's an example that I used today: "If you're not following @MichealSavoie, you should be. He is very much a servant at heart #followfriday"
If you'd like to know more about Twitter, I recommend a good starting point is a book by @JoelComm called Twitter Power: How to Dominate Your Market One Tweet at a Time
You can also check out a recent video blog post about social networking sites and whether to connect or not.
Social networking is one of the best ways to develop relationships online for your business.  I highly recommend that you get started right away.
If you need help setting up and implementing a social networking strategy for your company, let us know and we'd be happy to talk about the options with you.