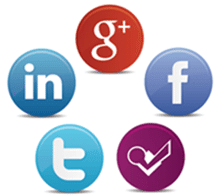 Wow. It's amazing how much has changed in the last few years. Social media marketing burst onto the scene and has revolutionized the way we interact, communicate, and market.
The challenge with social media is that things are constantly changing. In addition to this, everybody has an opinion. You might have attended a seminar or workshop last month where the speaker said one thing, and another one last week where another speaker said something completely different. By now, you're probably throwing your hands up in the air and saying "How am I supposed to handle all of my social media marketing by myself? I'm so confused and I don't have time to figure this all out."
Now, don't you worry, and don't you fret. You've got a friend in the marketing business.
Solutions Include:
Additional social media setup packages