At the beginning of the year it is common to write down goals, set "resolutions", and generally try to figure out how the new year will be better than the year before.  And let's face it, 2009 has been a tough year for many.  Given the economic climate, most people would like to save some additional money when they shop at their favorite merchants, and of course many folks would like to make more money in 2010 than they did last year.
So when I was approached over the holidays about a new company called ShopBest.com, I decided, reluctantly, to take a look at it in detail and see if it was just another shiny little object passing over my desk, or if actually passed my "Opportunity Filter" and was something that I felt I could share with others in my circle of influence.
>>>>> If you are just ready to start getting cash back on your online purchase, go now to ShopBest.com <<<<<< (Please note, this is an affiliate link.  If you make a purchase through the link, we will get paid)
I must admit, at first glance I was not interested in the least.  ShopBest.com looked like another 'me too' product offering in the way too crowded world of 'click and save' online shopping malls.  It reminded me immediately of a recent product launch of an online shopping mall / portal called Blastoff , which, quite frankly, I wasn't interested in either.
So let's begin our review about the company with a discussion about online Affiliate Marketing.  Many people have heard of affiliate marketing, but most do not understand it.  Amazon.com is one of the pioneers in the industry, and they offer the ability for just about anyone with a web site to make money by promoting their products.  I have been around the affiliate marketing industry since 1996, when I was one of the charter merchants with a company called Linkshare.  Here's a brief video that explains how affiliate marketing works;
So affiliate marketing is a simple way to earn some extra cash by doing what Joel says, "selling other people's stuff".  Thousands and thousands of online merchants have affiliate programs.  I believe they are a great way to help grow sales as a merchant, and can become another income stream the little guy. The challenge is that in reality, it isn't as simple as it sounds.  Here's why:
a) As a web site owner (commonly called a publisher),  you have to drive the prospective buyer to the merchant's web site through a special affiliate link on your web site.  However, in most cases, online shoppers already have their favorite merchants that they shop at, such as HomeDepot.com, Dell.com, Macys.com, or BestBuy.com, and they will usually just go directly to that site when they want to buy something.
b) Traditional affiliate programs rely entirely on the efforts of each individual affiliate.  This can be difficult if a person lacks online marketing experience … heck, it can be difficult even for experienced online marketers.  So it can be tough to make any real money.  So while I am a huge fan of affiliate marketing, it can definitely be more difficult than most people want to admit or spend their time on.
ShopBest.com changes this in a very innovative way.  It is setup as an affiliate program of sorts, except for the fact that they've done all the heavy lifting for you.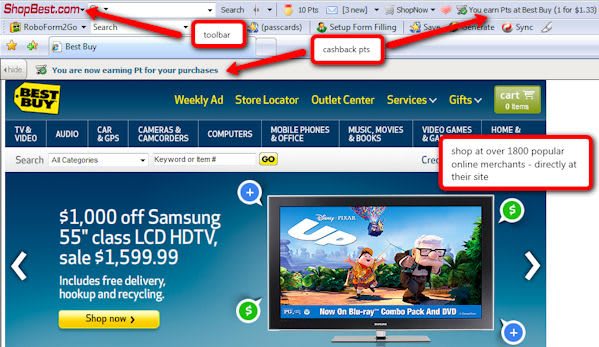 They've setup the affiliate relationships with thousands of merchants so that you don't have to.
Instead of having to have a web site to publish the affiliate links, you simply have to download a ShopBest.com toolbar.  This toolbar installation takes about 3 minutes and tracks shopping activity at all of the participating merchants.  Even if you turn your toolbar off, it still tracks the shopping activity and rewards you cash back points.
The toolbar has built-in tools to be able to share it with others via your favorite social media links… so it is not a difficult process to setup affiliate links, etc.
You don't need to rely on just your efforts.  You can share the toolbar with others … and get a percentage of their transactions as well.  This is where it starts to get really interesting.
The second thing you need to know about ShopBest.com is that it is set up as a network marketing company, which in a simple way is an affiliate program, but just with multiple levels of payout.  Now, I am a very cautious fan of the network marketing model.  There are so many fallacies and problems in most of the programs out there that most people don't think about, including some of my favorites below:
"anybody can do it" – not true… it takes hard work, the right mindset, and tremendous dedication to make anything work

"everybody needs this" (ie their product or service) – again, not true
"you can make tons of money" – some people have, but the vast majority of network marketers struggle to break even
"we're going to be bigger than Google" – this is one of my favorites … often stated before the company even launches by unknowing distributors.  How do you know you're going to be bigger than Google? Do you realize how big Google is and how much they are worth?

premium prices which are way more than most people would pay for the product – very common
a complete change of buying habits in order to participate – customers and distributors usually have to completely change their buying habits to take part in the business
So while the model does have a lot of problems with it … it also has some real strengths as well.  It is definitely a model that provides leverage, and given the right product, can be a valid way of doing business.  In fact, it can even redefine entire industries.  One network marketing company that we believe in and promote is SendOutCards.  It is a great product and actually makes it easier and usually less expensive to send greeting cards to your friends, family, and business clients.
Back to Shopbest.  Here's what I like about it:
You can benefit from it without spending a dime. There is no upfront cost or monthly fee to use the basic Toolbar.  You can simply download the toolbar, shop online at your favorite participating online merchants (there are over 1800), and you will get cash back points.  When you earn the equivalent of $15 or more,  you will actually get a check in the mail.  Once installed, you can basically 'set it and forget it' and it is still working for you.
It doesn't force people to change their buying habits if you're already shopping online. You don't have to go to a specific 'portal' or 'online mall' to start your shopping.  Just download and install the toolbar, and the system takes care of the rest.  Quite frankly, I already have my established portals, social networks, etc… I don't want another one.
There are no inflated pricing models. You shop directly at your favorite online merchants' web sites.  Plus, there are often super saver deals that can potentially save you even more money.
You can start earning additional cash back points when you share the toolbar with others.
If you want to share the toolbar with lots of folks, there is an affiliate marketing opportunity that allows you to make even more money.
Here's what I'm not going to tell you about ShopBest.com;
It's going to be bigger than Google: I have no clue how big it will be, but it does look like they have done pretty innovative things and could become a big company.
You can make save gobs of money by earning cash back and taking advantage of the super saver deals that the merchants make available:  I can't tell you that because I don't know what your shopping habits are now.  While many of my friends shop online at least for some things, some prefer to only shop locally.  Being actively involved in my local chamber of commerce, I am a fan of that as well, but there are some things that I definitely buy online on a regular basis due to convenience and pricing.
You can make a million dollars this year:  I can't tell you how much you are going to make if you sign up as an affiliate.  I'm not going to promise you the moon.  I'm not going to talk about islands in the Caribbean that you'll be able to visit at your leisure because you were in 'early' and are now part of the 'billionaire' club.  I can't promise you anything.  I can only point you to the income calculator on the site … and let you determine if it is worth it for you and your family.
Your kids can become millionaires by the end of the year.  (cool, sign me up right!)
In case you're wondering … I've heard all of these over and over again about other recent 'opportunities'.
Closing thoughts:
If you shop online at all, it probably makes sense to download the free ShopBest.com Toolbar.  It takes about 3 minutes to download and install.  You can set it and forget it.
If you're looking for ways to make additional money in 2010, check out the videos and the earnings calculator on the ShopBest.com web site to see the eight different ways the company allows you to make money by sharing this free toolbar with others.  For me, it fit my opportunity filter.
Here's to a fantastic 2010.