Plumbing is a highly skilled trade, and most homeowners and business owners will use the internet to find trusted local plumbers for their plumbing needs.
Using Google Adwords as a lead generation tool is a fantastic way to grow your plumbing business. Here is a detailed look at how we help local plumbing companies with lead generation.
A couple of background points:
Google Search Likelihood: High
Decision Making Process: Short
Key Selling Points: Speed, Availability, Cost, Reviews, Experience
Competition Index: Moderate
Invoice Range: $200 – $5k+
Characteristics of an Ideal PPC Advertiser:
24/7 call handling
Strong geographic covering (not limited to one town, for ex)
Rapid response time / multiple teams in place
Scalable based on demand
Industry accredited in some way that increases perceived value
Consumer Avatar & Psychology:
Plumbers are often required to fix an immediate problem such as a leaky pipe, overflowing toilet, etc.
As such, consumers will make a decision on who to call very quickly, usually during their initial search.
Depending on the severity of the issue, some consumers may be looking for a do it yourself solution, which is something we definitely keep in mind when creating ad copy.
How quickly the problem can be fixed is critical. A consumer is likely to pay more to have the problem addressed quicker than pay less to have it take longer.
Non-emergency opportunities also definitely exist for upgrades, remodels, etc.
Buyer Anti-Avatar (not ideal prospects):
These are people we don't want to advertise to.
DIY'ers
Anyone looking for parts, supplies, etc.
Job seekers
Geographic Targeting:
Limited only by where business is willing to travel, but…
How quickly someone can be dispatched to each targeted area should be taken into consideration as speed is a factor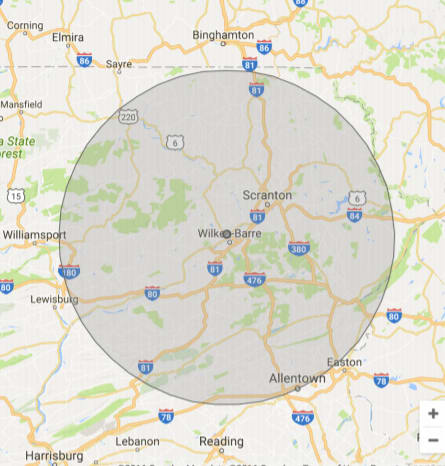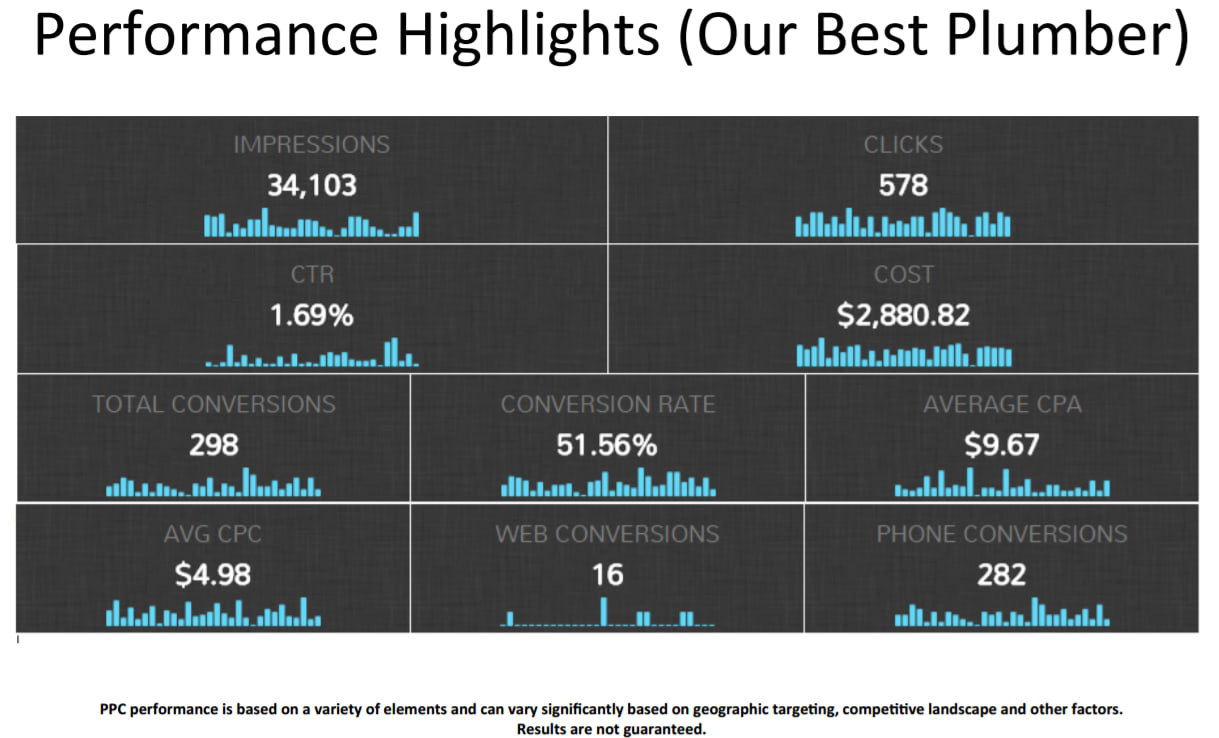 Case Study Metrics:
Inherited account conversion rate: 5% (we took over this account from another provider and they were getting a 5% conversion)
Industry average conversion rate: 20%
After 30 days: 10% (+100%)
After 90 days: 50% (+900%)
Inherited account CPC: $6.59
Current account CPC: $4.98 (-25%)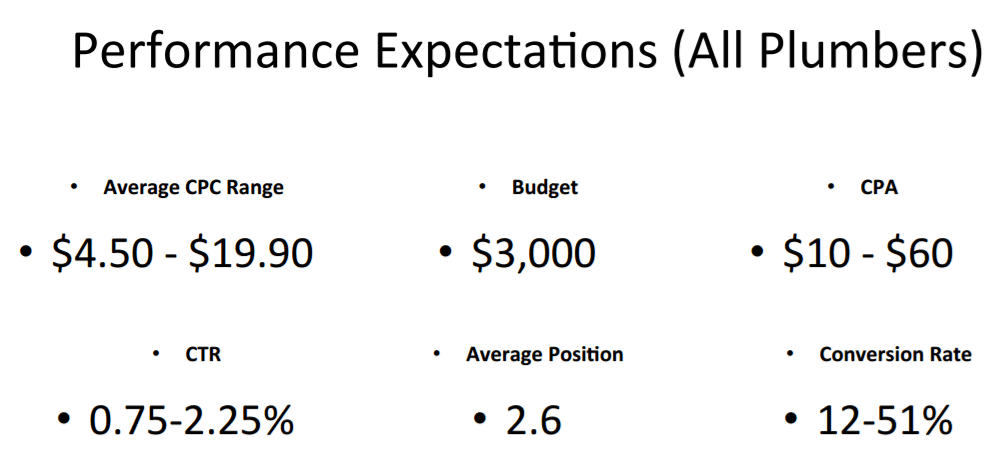 Recommended Campaign Focus:
Best plumber
Plumber near me
Plumber in ________
Emergency plumber
24 hour plumber
Plumbing Issues

Clogged drain
Overflowing Toilet

Products & Services

Water heater repair/replacement
Tankless water heater
Bathroom remodeling
etc
Recommended Campaign Types: 
General – Call Only
Remarketing – Mainly for optional services / not effective for emergency
Display – not recommended initially
Recommended Media Budget:
At least $2000/mo.
Can scale based on services offered/geography/volume.
Best practices:
Use a unique landing page built for conversion. This is a MUST. We will build you a landing page to use in your campaign.
Have a clear promotional offer
Answer the phone every time – missed calls = missed opportunity
Track your phone calls
Respond to email inquiries within 30 minutes max
Be polite and courteous – it's highly likely the customer is stressed
Clearly identify the issue
Don't give over the phone estimates
If pressed, provide price range without committing and while reminding of promotional offer
Confirm and agree on time service can be completed
Avoid having to get back to the customer – they will move on
Download our infographic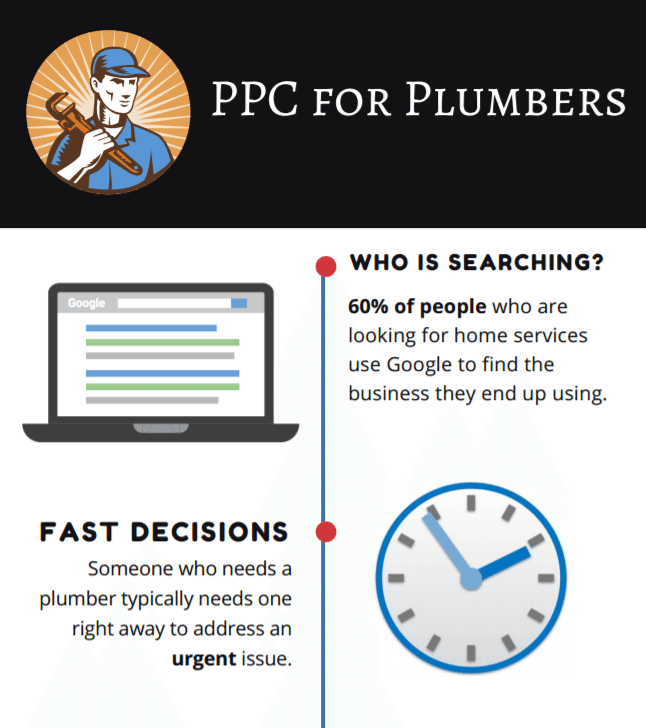 Questions? Give us a call at 503.581.4554 or fill out the form below to get started: